Graduate Leadership Program
After completing a life-changing and memorable Year 1, Year 2 will focus more on leadership, moving in prophetic lifestyle, inner healing and deliverance. The school year will cover around 30 sessions.
Session with Francis Chan – June 6, 2020
fg_lazyload
Session with Francis Chan – June 6, 2020
Session with Francis Chan – June 6, 2020
Session with Francis Chan – June 6, 2020
Session with Francis Chan – June 6, 2020
Session with Francis Chan – June 6, 2020
Session with Francis Chan – June 6, 2020
Power Walk in the City of Hong Kong
Power Walk June 14, 2020 - Pray for Financial & Commercial Center
Power Walk June 14, 2020 - Pray for Financial & Commercial Center
Power Walk June 20, 2020 - Pray for Churches and Causeway Bay
Power Walk June 20, 2020 - Pray for Churches and Causeway Bay
Power Walk June 20, 2020 - Pray for Churches and Causeway Bay
Power Walk June 20, 2020 - Pray for Churches and Causeway Bay
Power Walk June 20, 2020 - Pray for Churches and Causeway Bay
Power Walk June 14, 2020 - Pray for Government
Power Walk June 27, 2020 - Pray for Government
Power Walk June 27, 2020 - Pray for Government
Power Walk June 27, 2020 -Pray for Schools
Power Walk June 27, 2020 -Pray for Schools
Power Walk June 27, 2020 -Pray for Schools
Power Walk June 27, 2020 -Pray for Schools
Power Walk June 27, 2020 -Pray for Schools
Power Walk June 27, 2020 -Pray for Schools
Power Walk June 27, 2020 -Pray for Schools
Power Walk June 27, 2020 -Pray for Schools
Power Walk June 27, 2020 -Pray for Universities
Power Walk June 27, 2020 -Pray for Universities
Power Walk June 27, 2020 -Pray for Universities
Power Walk June 27, 2020 -Pray for Universities
Power Walk June 27, 2020 -Pray for Universities
Tongue Interpretation Session on Jun 18
January 9 – December 17, 2020
Applicants must have successfully completed the HKSSM Year 1 program.
HIGHLIGHTS & SPECIAL FEATURES
I. Leadership for The New Epoch Transition (DVD Sessions)
Kris Vallotton, Kris Vallotton Ministries, Bethel Church, California
Part 1
The Art of Government
The New Apostolic Age
Understanding Epoch Seasons
Government And Governors
Wineskins
Part 2
The Art of Leading People
Mission And Vision
Envisioning Goals, Plans And Steps
Measuring Success
Character And Risk
Part 3
The Art of Leading People
Motivational Leadership
Developing A Culture Of Reward
Heart Motivations
Managing People To Become A Winning Team
Managing Teams
II. Kingdom Movement (Live Sessions)
Edmound Teo, Senior Pastor of ICA
From The Law To The Gospel
God's Action On Earth
A New Way Of Living
Heaven Sent
What Does This Mean?
III. Practical Prophetic Training Course (Live Sessions)
John E. Thomas, Streams Ministries, USA
* Compulsory course - HKSSM Year 2 students are required to complete this course.
This is a profound course that will give you step-by-step instructions to learn to hear the voice of God clearly and consistently. You'll also learn how to distinguish God's voice from your own and to identify hindrances that is preventing you from hearing.
How Does God Speak?
Major Differences Between Old Testament And New Testament Prophecy
Functions Of The Prophetic
Role, Ministry, Office
Emotionally Healthy Prophetic
Word Flavored Experience
Old Testament And New Testament Prophecy
Inaccurate Versus False Prophecy
Types Of Revelatory Gifts
5-Fold Ministry And The Prophetic
Biblical Principles Concerning Ethics And Protocols Relating To New Testament Prophetic Ministry
IV. Inner Healing & Deliverance Program (Live Sessions)
Lindy Heung, Principal of HKSSM; Head of The Healing Rooms & Encounter Ministry
What Is Inner Healing And Deliverance?
Sozo
Heart Surgery
Generational Curses
Breaking Agreement With The Enemy
Keys To A Blessed Life
Healing Father And Mother Wounds
Prayers And Declarations
Group Healing And Deliverance
Eternity is Now in Session – John Ortberg
Life in the Kingdom – Edmound Teo
A Tale of Three Kings – Gene Edwards
Destined to Win – Kris Vallotton

命定贏家 – 克里斯.韋羅頓

Re-read: Celebration of Discipline – Richard Foster
1. Tuition HK$ 3,800 for the school year
The tuition does not include:
Mission trips that may occur during the school year.
Lecture Notes and recommended books.
Conferences and/or special seminars that may occur during the school year.
YEAR 2 STUDENTS SHARING AT THE END OF FIRST TERM
Kalvin: I was recommended by friends to take the HKSSM in 2019. In the beginning, I thought "Come on! Not another course".  I was also taken aback by the intensive course schedule. However, my wife kept encouraging me to apply with her. So, I did. Today, I could say I am so glad to have made that great decision and I am thankful my wife did not give up on encouraging me!  
Through the course, God changed my mindset toward Him and toward the way He sees me. I learnt that spiritual gifts such as prophecy is closely linked to knowing the heart of God. So, the School spent a lot of time on demolishing wrong mindset about God and myself and rebuilding my identity as His beloved son. As a result, prophecy flows easier. Another area that the curriculum is focused on is the Kingdom of God. We are not here to wait for going to heaven. Heaven is not in the future, but is here and now. We are to bring heaven down to earth through the supernatural ministry of the Holy Spirit. So, in class and through an overseas outreach, we had many opportunities to practice spiritual gifts. Last and not the least, I got to know many good friends in class who have the same Kingdom mindset and heart and we could walk together as a community.  
Shirley Lo: When I enrolled in the class of HKSSM in January, 2019, it was a few months after I completed the treatment process for my health issue. With my friend's encouragement, my husband and I eventually signed up for the class. Now we are so thankful that it was a beautiful decision we had made. Though it was called a 'supernatural school', I would like to say it is a school to transform our mindset and a renewed understanding of God's heart, and my true identity in Christ, and what the Kingdom of God is.
With this understanding, we are aware that the supernatural is not for the "highly qualified" Christians, but because of God's nature who dwells in us and enables us, participating in the supernatural becomes natural for all believers. How awesome and exciting it is to know!
The good thing of the school is not to stay at the head knowledge, but we have the opportunities to practice what we learnt in our own life as well as with those around us. It is also a blessing for me and my husband that we can grow together with the renewed understanding of God's goodness throughout the School.
Marlon Cheung - Resurrection Church
My life was transformed after I attended HKSSM Year 1. I began to understand God's words and was reaffirmed by Him through the course, and I began to align with His vision for me. I am now confident that HKSSM has equipped me to impact others in Hong Kong and China. We are ready to bring His Kingdom down to earth! Thank you Pastor Lindy and my many fellow HKSSM classmates and my wife Siew Mei for walking with me in this journey! Praise God! This is what my wife has to say about me and HKSSM.
Siew Mei: In 1986 we came to Hong Kong and attended a church in Yuen Long. The pastor prophesied over Marlon that he was an evangelist. At our home group around 2000, our Resurrection Church pastor prayed for Marlon after he claimed he never could hear from God. Thereafter, Marlon could not stop seeing pictures but he was unable to interpret them.
Marlon remained a "warm" Christian ignoring the gifts God gave him. He was happy to support my ministries passively but did not participate whole heartedly in any of them. At a young age our son Danial would say that Dad was "immovable" and Mum was "unstoppable", that was how different we were (are)!
2012 was a big testing time for our relationship. This tumultuous year climaxed in September 2012 when our lives went upside down after Marlon was diagnosed with 4th stage cancer. Most of you know about his miraculous healing. Marlon was given a second life after he encountered God supernaturally in a very powerful way. During his healing journey at ICA Healing Rooms, he was called by God to serve there in 2014 and to support me in Christian Action's ministry in Qinghai.
Through the encouragement of Pastor Lindy, Marlon joined HKSSM in 2019. This was a big milestone in Marlon's life. During his one and half years in HKSSM, Marlon began to see himself as a prophet, an evangelist and a healer anointed by God. Marlon continued to see pictures and he can now interpret what he sees. He began to grasp supernatural living from a Biblical and Kingdom perspective. HKSSM led him to understand about living in the Spirit, seeing things through the eyes and heart of God. He is motivated to lead others to know God Biblically and supernaturally. Marlon became a kingdom leader through the teaching of HKSSM. His downloads during his quiet time are encouraging to me and many others.
Our relationship realigned after facing life and death together but most importantly, Marlon's mindset was changed through HKSSM. We now share spiritual insights and visions. Marlon is confident in affirming me frequently saying he now understands events that took place in my life through his enlightenment during HKSSM. Together we attempt to continue to passionately seek God's heart and see things through His eyes, fulfilling the destiny He has given to us as husband and wife.
Ray & Tiffany – The Chinese Full Gospel Church
Ray: First of all, we would like to thank Pastor Lindy for taking us into HKSSM; it has been a blessing to our marriage, workplaces and different aspects of our lives.
We started studying in HKSSM right after we got married (3 months), and this has been a true blessing to us. The timing was perfect. As we went through this journey together, we learnt to see one another in God's perspective and treasure our uniqueness and strengths.
One noticeable change in Tiffany is that she has become a more patient and loving person. We used to argue about housework, and cleaning toilet is my weakness. Now Tiffany would be cleaning the toilet herself without complaining. I feel so loved! Of course, I would also do other housework, but that is really a kind of sacrificial love – covering my weakness, supporting each other with our strengths, which is amazing.
We will also actively release prophecies and healing to one another. Last month, Tiffany got a very high fever (38 degrees), and I immediately prayed for complete healing over her. Upon arriving at the hospital 15 minutes later, the nurse took her temperature and said Tiffany had no fever! It was really a miracle, praise to the Lord.
Tiffany: Echoing what Ray shared, we learnt to call out each other's gold and strengths now. I am weak in managing finance and keeping records. Ray initiated to handle all the bills for me and I was so touched! Both of us tried to contribute in different ways and we turned arguments into perfect collaboration!
Through HKSSM we are also empowered to share the kingdom culture in our church. Very often we will read through School's lecture notes and share our learnings with our personal experiences to the audience. When we pray for others, we will ask the Holy Spirit: how would you like to bless this person? Many times, people would be so touched by God's love.
I faced challenges at work last year under a demanding and bad-tempered boss. I recalled Pastor Lindy's teaching about prayer-walk, so I decided to give it a try. I prayed everyday as I went to work and very soon changes began to happen. My manager became happier and team morale improved. She also gave me more autonomy on my projects. Everyone was surprised by her change and we have now developed a trusted relationship at work! Praise God!
I thank God for all the blessings, from our marriage to our workplaces and church life. Miracles never end!
The HKSSM journey enabled us to grow as a couple together in Christ.  This is a course with a lot of practical sessions with practice in a safe environment.  Over the past year, we learnt how much God loves us and in turn our love for each other grows intimately.   We picked up the value of honoring each other as we discovered our identity in Christ, that we are created to be His precious prince and princess.
One important change in our lives is we grow together, closer in unity and not separately in different directions.   We used to be in that state as we are two very different individuals with extreme characters joined together in marriage. Instead of continuing on separate paths, as we come together, God showed us the commonalities in our differences.  These commonalities in our differences is exemplified and refined in the process.  As this happens, we are able to come together stronger as one in Christ.
Thomson: Though my spiritual walk with God is not as long as my classmates, I received so much love and encouragement from them.  While preparing for the mission trip, I received my own physical healing of my legs which I have never imagined could happen to me.  I cannot comprehend everything but I know now that ~ God is real.
Pea Ee: Relationship with my parents has improved into a better state than when I used to live physically closer to them. Throughout our HKSSM journey, we were taught the simple acts or words of affirming and honouring our parents could bring the family closer.  I tried it and the results are phenomenal.  My parents feel so loved by me and I feel the same way too.   I am greatly blessed as HKSSM has transformed my husband; he enjoys studying God's word and shares freely and confidently during bible study or Kingdom group meetings.  We have also made friendships where our group-mates stick with us through thick and thin.  They prayed with us, journeyed with us and celebrated life together!
A highly practical program, we live out what we learnt on prophesying, healings and hearing from God. These skills are easily applied in our daily lives as we pray, prophesy or administer healing to families, Kingdom group and friends.   By doing it, we experienced that we just need to step out in faith and God will do the rest. God bless you.
Sally Lai – The Vine Church
When I first attended HKSSM in January 2019, I was between jobs into the 6th month of resting and waiting for the new door, but without any glimpse of what my next direction looked like. I still remember there had been many times in class when Pastor Lindy got a word of knowledge from God to pray about jobs, new directions and career changes for us, when nearly half the class stood up to receive prayers, and I was one of them who was blessed by her encouragement and prayers.
Soon after that, I felt led to apply for my current role which was the only job that I applied for during those months of waiting. Now, I've been with The Vine Church for more than a year and I always feel thankful for that. I'm in awe of His goodness.
HKSSM always teaches us to live out what we have learnt. Cultivated by love, passion and prayers, our mindset got provoked to change. What we learnt couldn't be merely the head knowledge, but the seed and power of transformation which is being manifested in different aspects of my life. The transformation is real and noticeable.  Without HKSSM, I would not have been able to honour people in the way that I do now, nor would I have been able to tell my mom that I love her and hear her say the same. A friend of mine who has known me for more than 10 years told me that she had never seen me so much at peace.
I thank Pastor Lindy for also encouraging me to come out of my shell. Since March, I have started to do a bit of ministry work which I learnt a lot in the process. I'm also grateful for being given those enjoyable opportunities. 
I know that these are just small beginnings which require of importantly, follow-through in actions. I'm looking forward to more to come in the rest of this year. Above all, I really want to thank Pastor Lindy for all that she had done for us. Her passion, leadership and teachings spark my desire for growing into the depth of my relationship with God. Thank YOU.
Alice & Cheung-Yiu – Tung Fook Church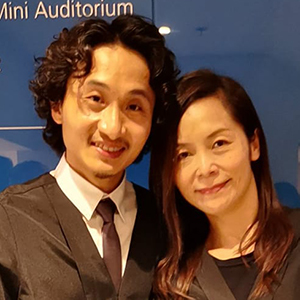 祥耀: 我太太Alice自從入讀了HKSSM後,她的信心,無論在生命或事奉上都比以前增强了,這是因為她擁抱了自己的身份,不再是從前不被人所愛的人,而是天父爸爸所愛的寶貝女兒。另外,她也在Inner healing的課程裡得到很多醫治,也更加明白自己,同時我亦能更加了解她的感受,使我更懂得如何去愛護她。
Alice自加入HKSSM 後明白到丈夫是家裡的頭這個真理,因此很多時她遇上了問題都會詢問我的意見,更會去實行,這使我感到被尊重和重視,這也同時增強了我的自信心。
Alice 會將她在HKSSM 所學到的天國觀點帶進職場和事奉上,使其他人也都能更加認識天國觀。她先知禱告的恩賜也大大增強了,越來越容易聽到神的聲音,每當我情緒低落和迷失方向時,她都能以這恩賜去祝福和鼓勵我,更藉此去幫助其他人。
Alice: 我丈夫阿耀原本是一個很理性的人,但自從入讀了HKSSM後,神改變了他,讓他變得更完全,情感提升了,與理性中和了,更像一個有血有肉的人。例如有好幾次我感到沮喪和失落,他會主動來關心我。可能他不知道該說什麼來安慰我,於是他會主動為我祈禱。他的先知性祈禱很祝福我,禱告中的圖畫給我帶來很大的安慰,讓我有重新振作的信心。
此外,我們會一起做Inner healing的練習,彼此分享小時候的經歷和傷害,他會很耐心地聆聽,去了解我。我們又會一同學習和做功課,他知道我生命中的挑戰和軟弱,於是會不時向我的生命說話,這對我的成長帶來很大的幫助。每當我有些方面還未能夠突破時,他又會很包容,願意等待我。
另外,我也發現亞耀變得比以前更有愛。例如有一次我不想返小組,他反過來鼓勵我應該多明白小組裡的組員沒有機會讀HKSSM,因此我們更應把握機會返小組,在組內分享我們所學的去祝福他們。因為原生家庭的緣故,阿耀其實是很難開放自己的,他尤其不喜歡觸碰情感的「掣」去表達心裡的感受。但自讀了HKSSM以來,他對自己的認識加深了,很自覺地作出了改變。我知道對他來說表達感受並非容易,但我見到他很努力地去做,又會主動去關心我,向我表達愛意和讚賞。
夫婦的心聲: 最後,我們夫婦兩人很感激Pastor Lindy的教導和幫助,HKSSM對我們的生命和彼此的關係帶來很大的改變和祝福!
George: Did you watch the movie called "Raiders of the Lost Ark?"  I would describe HKSSM as "Raiders of the Lost Treasure from God." The word raid means a surprise attack on the enemy by a troop of sharp commandos.
God gave me this word RAID as a prophetic word which describes how I see HKSSM – that God is raising up a mighty army, fully equipped and empowered to engage in spiritual battles.
Revelation – A paradigm shift in thinking, our mindset reset and renewed into a new season with new wine in a new wineskin.
Activation – We are activated by the Holy Spirit to exercise our spiritual gifts for the good of the Body of Christ.
Impartation – Upon receiving the Spirit's anointing, we reach out and bless others by imparting our anointing and gifts to them.
Divine encounter – Being aligned with our Triune God, miracles, healings, word of knowledge, prophecy, discerning will be a NEW NORMAL in our daily lives, and we can attempt great things for HIM.
Pastor Lindy, in one of the HKSSM meetings, spoke in tongues followed by an interpretation about what God had in store for me as I joined HKSSM. She received the message that I would be the head of commandos, a mighty warrior and I needed to go forth and stand straight, and to cling to the Holy Spirit and walk in His way without fear. The journey would be exciting, something I had never experienced or seen before.
I am glad to be studying at HKSSM with my wife, Grace, as we can learn together with a better understanding of each other and the Rhema word that we receive from the Lord. I believe the covid-19 pandemic gives us the opportunity to repent before God; we need to reset, rethink, and re-align ourselves with God to fulfil the destiny which He has intended for us.  Isaiah 43:18-19……. Behold, I am doing a new thing, says the Lord. I pray that this does not only apply to our business, marriage, family, but also to the people around us, that we can influence them into the Kingdom. Amen!
Grace: When I joined HKSSM with my husband George, we had no idea what a huge treasure God has in store for us. It's such a blessing for both of us to walk through the school together. Let me summarize the TREASURE for us: 
Transformation – Our lives are transformed not only spiritually, but also emotionally, relationally and physically.
Revelations – We received so many revelations through our classmates, some even confirmed the prophecy released to George through Kris Valloton a few years ago! 
Eternity mindset – HKSSM and Pastor Ed taught us that eternity isn't a future destiny. Eternity begins now when we obey God moment by moment, day by day, working out our salvation! The mountaintop experiences like healings, miracles etc. do matter, but equally important is how we act and behave in obedience to Christ in our day to day life, that's where we're the most impactful for the Kingdom of God! 
Awareness – Being aware of how certain traits of our family lines have affected us, our marriage, our children, and even our friendships, career and ministries, has helped us to resist these traits to break the perpetual cycle of undesirable family patterns. We patiently wait for God to restore what the locust has eaten. There is hope to restore the perfect plans of God for any family line. 
Supernaturally natural – We're Children of God on earth and being supernaturally natural should be the way we live! Thanks to HKSSM, we now have so many supernatural testimonies to testify for God's love and His goodness!
Unity in Christ – HKSSM helped George and I to reach a deeper level of understanding, cooperation, trust and unity in our marriage, parenting, investment and ministry. God can accomplish amazing things through us when we work as a team in every aspect of our lives. 
Restoration – All the books recommended by HKSSM have impacted our lives, but from Emotionally Healthy Spiritually by Peter Scazzero, we learned the importance of guarding our emotional health. Now, we are much more alert not to react to any triggers emotionally. Instead, as Children of God, we can choose to respond with the fruits of the Holy Spirit. 
Empowerment – Empowered by all these treasures and with continued training in Year 2 on motivational leadership, we are ready to carry the ministry we started to the next level to achieve what He wants to do! 
HKSSM catapulted us to a much higher level of love, peace and joy.
Iman Chow – The Vine Church
"For I know the plans I have for you," declares the Lord, "plans to prosper you and not to harm you, plans to give you hope and a future". Jeremiah 29:11.  This verse has summed up my journey in HKSSM in the past year and a half. 
I thought I was the one who decided to get close to God and thus registered for HKSSM, but now I realized it's all God; it's HIM who initiated and planed out everything for me to respond.
Before HKSSM, I was easily affected by circumstances and my emotions swung minute by minute.  Yet from the very beginning of HKSSM I learned how to see things from God's perspective and experienced a huge breakthrough in my mindset. More importantly, I learned to follow-through after my breakthroughs from Pastor Lindy so that I don't fall back easily.
Whenever I begin to stumble, I'd take out my rescue kit which is a short message from Graham Cooke that I learned in HKSSM, to be reminded that I am the beloved of my Father and I lack nothing. I'd then stop being anxious or worry, and I would just be excited and joyfully confident of what God is going to do in my life.  There'd been times I looked out from my window and saw one eagle flying in the sky, then another and another eagle would join, and more than 10 would be cheering me up. In that moment I just knew that God was here, He is in control.  All these signs and wonders are important because they point to Heaven as one of the main quotes from HKSSM.
"Upgrade" was one key word that I learned in HKSSM; I learned to see every challenge as an opportunity for upgrades. I learned to bring fruits of the Spirit into the challenging moments, sometimes I'd bring patience and kindness into a difficult meeting. Other times I'd challenge myself to bring all 9 fruits with me to meet a difficult person. Therefore, all so called "difficult moments" have become my practice ground and playground, and I'm having fun in it!
All these training from God is to prepare me to have the right mindset to receive His gifts and to enter into the next level up in my life.  Towards the end of 2019, I was offered a very good job opportunity for which I had no prior experiences. God walked me through the interview process beautifully, and with the powerful intercession of some at HKSSM, the offer in this new job was a total upgrade in the midst of chaos in Hong Kong when recession is the norm in my industry.  This blessing has been overflowing from my heart and I wanted to impart this favor from God to the people around me, to see His blessing flow out from me.
God is an immeasurable God who can do exceedingly and abundantly more than I can ask or imagine. Thank you HKSSM for strengthening me to experience the Ephesians 3:20 moment.
Amen & Rachel – Tung Fook Church
我們非常感恩夫婦倆人能夠一同在HKSSM成長,學習當中我們夫婦同時在個人生命、婚姻、家庭、以及跟原生家庭父母及自己子女的關係裡面,都有極之大的突破及轉化。
 太太Rachel因着HKSSM 的教導,學會聖經的教導要順服丈夫,順服不是逆來順受,而是她對我作丈夫的尊重及明白,將一家作頭的位份交給我。因着這個改變,我自己都能夠在上帝的秩序裡歸位,Rachel的改變更能鼓勵我,推動我及加強了我們夫妻關係的深度。 
記得當初申請入學面試時,Pastor Lindy建議我跟地上的父親來一個關係上的復和。我跟爸爸的關係不是不好,但交流的確比較少,所以我聽從 Pastor Lindy的建議,刻意地去關心爸爸更多。現在我能夠跟爸爸親口說我愛你。因着這個改變,我原生家庭亦起了很大的變化,現在媽媽願意每晚和我們一同祈禱,爸爸亦開始越來越敞開自己。
當初是太太先申請報讀HKSSM ,在過程裡面她不斷鼓勵我一起報讀,但當時我沒有加以考慮,因我心裡自覺自己有很多罪和問題,很懼怕一旦入讀我如何去面對上帝的榮光。最終我們得以一起入讀了HKSSM 的課程。當中很深的體會到上帝不但沒有放棄我,反倒給我浪子回頭的機會,祂向我展示了無論我是什麼樣的人,祂都是深深的愛我和接納我,讓我再次回到天父爸爸賜給我的兒子身份。
現在我和太太一起讀HKSSM 一年多了,很感恩我們夫婦的關係比以前更親蜜,大家互相建立天國的價值觀,神在我們夫婦和兩個孩子當中,每天都施行奇妙的神蹟奇事,我們一家對未來充滿興奮,期待每天都能經歷主耶穌的恩典。
Thank you HKSSM and Pastor Lindy for leading me to the kingdom breakthrough in my family! I have reconciled with my dad and the family is now joyfully united.
I learnt from class that our relationship with our earthly fathers is the key to access to our heavenly Father. My relationship with my dad had been lukewarm. Dad was the bread earner and he was busy all the time outside since I was young, even at holiday times. Whereas my mom, the housewife, stayed home with me as if the "division of labor" rule applied. As a result, I was very close to my mom, to an extent that I would speak up to defend her in any family issues.
Inner healing is one of my favourite topics in HKSSM. I followed all the steps and forgave everyone who may have hurt me in my life. With continuous prayer and support from my sister, I decided to step out and put love into action to serve my parents.
My dad was diagnosed with cataracts recently. According to the doctor, his case was urgent for surgery.  To put love into action, I accompanied my dad to all the check-ups and the operation. It was almost my first time to stay close to him and we got to spend quality time together. He told me a lot of his stories. Finally I got to know him better and he has gained my full respect. From there onwards, my dad loves to stay home and he prepares dinner for us every day. The family is now united where my dad is the respected leader. No more "division of labor". A divine breakthrough has come to the family!
God moves in light year speed that my dad, a pre-Christian, is now willing to pray with me and my mom. He also listened to my salvation testimony. Dinner in our home is no longer a silent time because we're sharing everything and expressing love languages naturally. Glory to God!
Letitia Chow – Hong Kong Baptist Church
The past 18 months at HKSSM has been an amazing journey. 
I have been learning and experiencing the supernatural power of Father God, and am being trained to serve the church and community with God's supernatural power, so that people may know that God loves them and is able to help them.
Renewal of the mind according to biblical truth is the key to God's transformation in me.  The process involves deep soul searching with the help of the Holy Spirit.  Now I know my true identity in Christ and the purpose of my citizenship in the kingdom of God.  Having a right relationship with God brings changes to relationship with people. 
Below are some feedbacks on changes people see in me, resulting from my study at HKSSM:
My mentor: "The most obvious change is you honour God as the centre of your life at work."
A colleague: "I have noticed Letitia has been more conscious of her words and actions in the work environment. On a few occasions, she was able to reflect on how she had reacted to something that happened out of her expectations, or when she felt she was being challenged. She was able to express and talk about it afterwards. She demonstrated a real effort to reassess her behaviour and most importantly, to consider an alternative approach."
My husband: "You have become a better listener—you are more patient and listen longer before responding, and in a calmer manner.  This makes me feel more respected."
"Although there were still times that you gave very quick response in a raised voice when talking to your staff, you were soon aware of that, and made adjustments quickly.  This is a sign of improved self-awareness and self-control."
"You are also mindful about your relationship with authorities, and I saw that you had adjusted yourself, changed your attitude which resulted in improved relationship with them."
Glory and honour to God!
Frank & Ruby – Shatin Baptist Church
It's such a great honor to be part of HKSSM as one couple for the past 1.5 years! Before we joined the School, my wife, Ruby, and I attended the same church but at different locations. Even after we got married, we seldom listened to the same sermons or shared our spiritual experiences with one another. Now at HKSSM, together we learnt about our royal identity in Christ and we began to develop an honoring and loving culture in our marriage, which rippled out into our extended families.  Ruby and I often discuss what we learn at HKSSM, which led us to a deeper understanding and reflection about God's kingdom. 
During HKSSM Year 1 in 2019, we got an opportunity to start up a ministry with several church members to serve the lost in the marketplace. We share with them our HKSSM experiences and impart and activate to them what we have learned, which includes the prophetic, the culture of honor, kingdom mindset, treasure hunt, etc. Our passion is for people to see how beautiful God is, and to encounter His goodness through our ministry. It was our dream two years ago to server God as one unit. Today, God has made our dream come true!
HKSSM does not solely offer us a platform for personal spiritual growth but it has also been a transforming journey for our marriage and relationships with others. We have also met a lot of great companies in the School who have strong desires for God, and our friendship built here is precious indeed. We are so thankful to Pastor Ed and Pastor Lindy for accepting us into this life-changing program. It has definitely been one of our best life experiences!
SCHOOL CALENDAR 2020 AND LOCATION
Classes have taken place at 1/F Yalford Building, 44-50 Tanner Road, North Point. (MTR Exit B4)